Vig Guitars has been serving the Twin Cities metro area since September 2014 and continues to grow every year.  Serving the working musicians in the area, our reputation, quality, and workmanship are well-known,  we have an AMAZING Staff of 4 Luthiers.  We are centered on Repair and Service, but we also have a wonderful variety of New and Used Instruments, as well as Pickups, Pedals, Strings, Straps, Accessories, Local Artists' CDs, and a humongous wall of Parts so you can customize your instruments!!  Ted's been handwinding Pickups, and they are flying out the door! Stop by, we'd love to see ya, and the coffee's always on!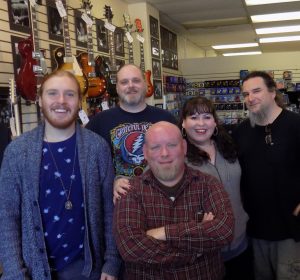 Musicians for Musicians! Stop by!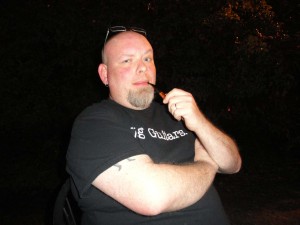 It all started for Ted in the 4th grade when he started taking guitar lessons and decided this is what he wanted to do with his life. He's been in love with the guitar ever since, although he plays bass, banjo, and a little mandolin as well. In high school he landed his first job in a music store. That was Wetterlund Guitars in Northfield, MN. Ted did some basic guitar work while he was there. He left to pursue music school and ended up attending Red Wing for Guitar construction and repair. After graduating in 1993, he took over Wetterlund guitars, which had changed it's name to Centerfield Music. He owned and operated the store until 1998 when the allure of the big city took hold. He moved to Minneapolis and worked at music stores in the area doing sales and repair until 2002 when he decided to do repairs full time. He had a pickup/ dropoff service through several stores in the area over the next few years. Around 2005 he partnered up with My Music Store in Golden Valley, MN doing all of their repairs. He built a large following for his talents repairing instruments over the next 10 years there. It was at this point Ted and Angie decided to hang out their shingle and open Vig Guitars! Over the last couple years, Ted has been winding guitar and bass pickups and getting much acclaim for it! All pickups are custom wound to your spec. He's happy to have a conversation with you and help guide you on your tone journey!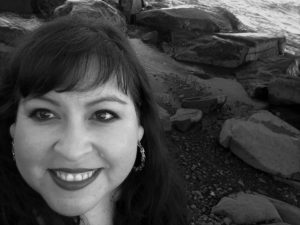 Angie is the lead singer for Bad Lucky Band and has been performing for many years in the Twin Cities metro area.  She is half-the-brains behind the success of Vig Guitars.  Running this shop with her husband Ted is extremely rewarding, and is proof that dreams do come true.  She tries to get out as much as she can to support all the local musicians, and if you see her taking a picture of you, she's probably just trying to get a good one so she can put you on the wall at the shop!  She loves getting to know her customers, so be prepared to chit-chat over a cup of coffee!  She is very proud to be a part of the Twin Cities Music Community.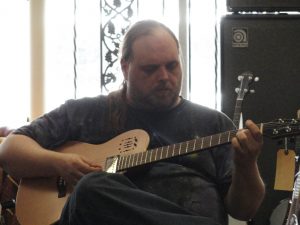 Jason is the vocalist for the Jason Dixon Line and enjoys singing Blues, Rock, and Soul.  He also plays guitar and percussion for several bands in the Twin Cities.  He collects guitars and has extensive knowledge of guitar effects pedals.  He listens to a wide variety of music, from 1920's Blues to Modern Rock and Funk.    His favorite musician is Warren Haynes.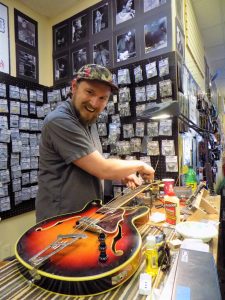 Nick Marren-Graduated from Minnesota State College Southeast Tech (Red Wing) in 2016 for Guitar Repair and Building, Development and Production, he has since worked at another great shop in town and made the decision to move over here! He does impeccable work and adds brightness to the shop! He's really into the music of Jack White and Isaac Brock and it's fun to listen to him play the guitars in here!  Stop in and say Hi!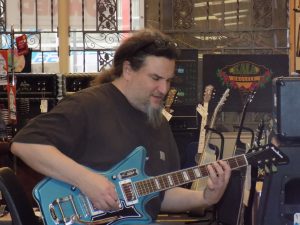 Nick Perna.  A veteran of the Twin Cities retail music store business for 20 years, Nick grew up with music and musicians in the house. His dad Dick Perna, played tenor sax for a living for most of his life, and as a result, Nick had to tag along to many band rehearsals, and used more vintage Fender amps as chairs back then, than he has seen in hand as an adult! A guitar nerd in general, with a collection of guitars, amps, and effects, that range from classic to bizarre, Nick can help you with just about any electric guitar related minutia. Working alongside Ted Vig for 10 years at My Music Store heavily strengthened his knowledge of repair processes and diagnostics, so he is ready to help assess and troubleshoot your unhappy instrument! If we do not have what you are looking for in stock, his strong operational and product sourcing skills will help you locate the parts and accessories you need! A no nonsense type, Nick will not BS you on things-if he does not know the answer, he will find out for you! Aside from Deep Guitar-Dorkery, Nick enjoys exploring unique local restaurants, pyrotechnics, bird watching, and treasure hunting at estate sales and thrift stores.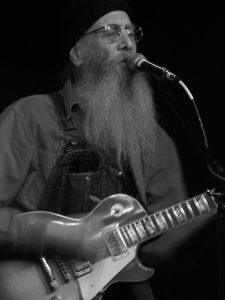 Leonard Shapiro is here!! (aka Moses Oakland in the Performing world) but all of you players who have had their work done by him, know him as the one and only Leonard Shapiro  http://moseso.com/lsgr/
Don't FRET, he didn't disappear…his building was bought by a company that had different plans.  You'll catch this wonderful guy here a few days a week!  We are so happy to have him and his almost 30 years of experience and expertise.  Fine Fellow, that Guy.
Do you know Dylan Salfer yet?  If you don't, you need to.  Dylan is here 4 days a week and apply his extensive knowledge to whatever you are looking for.  He is an incredible Guitarist, he can play Bass and Drums, and he's a great singer!  He is a busy guy, has a good head on his shoulders, and is super focused on his future in this ever-changing Music World.  He reminds us to have fun every day here at the shop.  One of his all-time favorites is Derek Trucks!!  Come chit-chat with Dylan about Music and Gear, and make sure to check him out at one of his shows!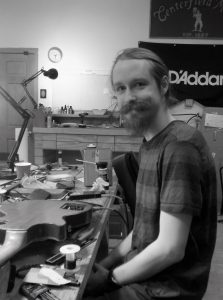 Andrew Ogilvie is here!  He graduated from Minnesota State College Southeast Tech in Redwing for Guitar Repair and Building in 2017.  He went to work for Riff City right out of the gate! He is a great addition to our Phenomenal Repair Team!  He really likes  electronics and wiring, and he's a Twin! How cool is that?!
We continually strive to ensure that every instrument is optimized to their owners' unique preferences.  Please inquire about our customization and optimization services!